World Renowned Lomi Lomi Master
Auntie Marguerite Offering Courses
NCBTMB approved courses 50 CE Hours credit
Learn the ancient art of Hawaiian Lomi Lomi Massage or
Advanced Body Work Body Balancing for Scoliosis Therapy
Traditional Hawaiian Lomi Lomi Massage
The Lomi Lomi Course trains you to do a 1.5 hr massage using the Lomi Lomi technique. It is like a dance, this Hawaiian style massage is world famous for its benefits and total relaxation of the client. A certificate of a Lomi Lomi practitioner is earned through this class. This is The line of Margaret Machado, called traditional Hawaiian Lomi Lomi Message.
Body Balancing for Scoliosis Therapy
A US nationally certified course that can help restore and maintain scoliosis victims and other improper alignments of the body, from organs to bones and ligaments. This is a combination of Divine revelation, and mixed modalities learned over 40 plus years of the practice of massage therapy by the trainer Sarah Marguerite Pennington.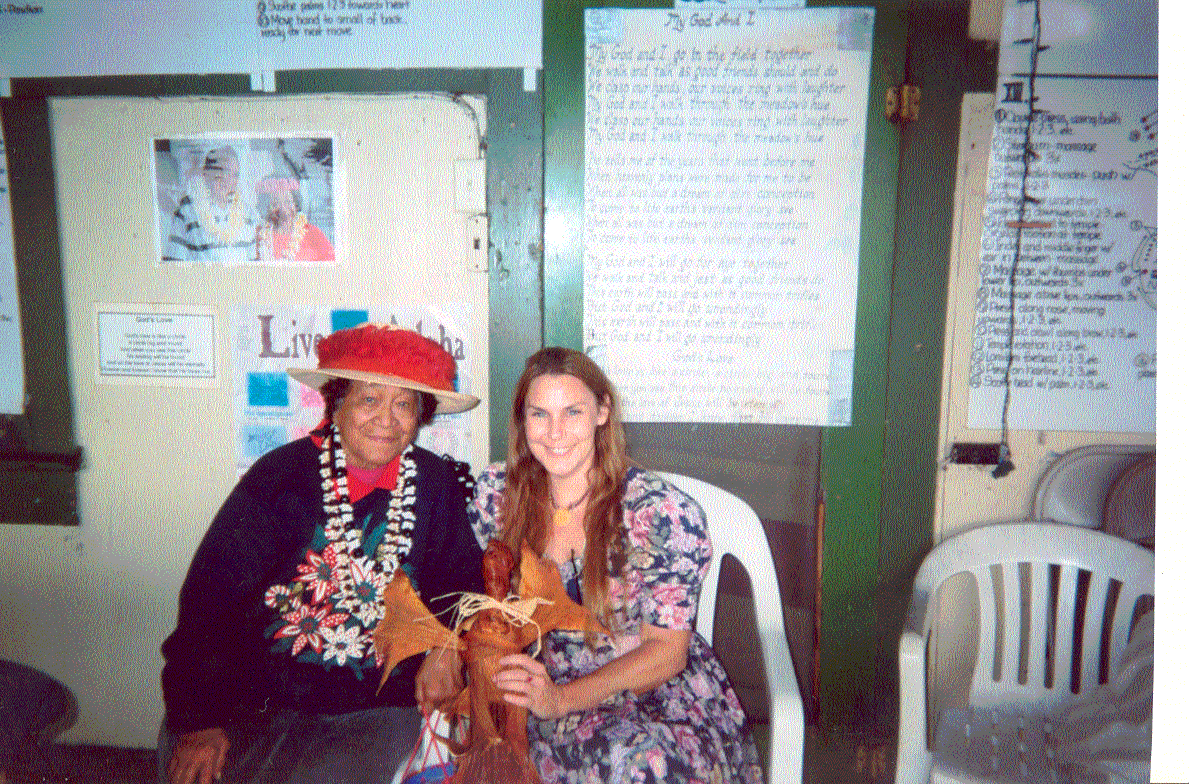 Auntie Margaret Machado and Marguerite Sarah Pennington 1998 when she gave her blessings for Sarah Marguerite to Train in her Traditional Hawaiian Lomi Lomi Massage
Lomi Lomi Master Trainer Sarah
Marguerite Pennington
46 years massage experience, 20+ years training others, Massage school Owner
Lomi Lomi Master in Traditional Hawaiian Lomi Lomi by Auntie Margaret Machado
35+ years Spiritual Counselor, Massage Therapist mat-4925
NCBTMB Trainer and Creator of NCBTMB Approved New Scoliosis Therapy Body Balancing for Scoliosis Therapy
Marguerite Pennington is approved by the National Certification Board for Therapeutic Massage and Bodywork (NCBTMB) as a continuing education provider and is accepted by the State of Hawaii for Hawaiian State Licensure.
If you are a past student of S. M. Pennington and are interested in joining the team in becoming a teacher for In Spa Globally please contact us and Let us know career opportunities are available for therapists and trainers.
GodHealsbysarah@gmail.com 808 651-5481
NCBTMB Certified courses for 2018
Traditional Hawaiian Lomi Lomi Massage
January 12-20 2018
Feb 5-13 2018
March 20-28 2018
April 2-10 2018
June 21-28 2018
July 21-28 2018
August 11-18 2018
September 7-14 2018
October 5-12 2018
November 9-17 2018
December 7-14 2018
Jan 4-12 2019
February 15-22 2019
March 15-22 2019
April 12-19 2019
June 7-14 2019
August 9-16 2019
September 6-13 2019
November 15-22 2019
December 1-8 2019
50 CE Hours Continuing Education Credit NCBTMB
Location of all training is North Shore of Kauai Cost $1290 per 8 day course for any class
Body Balancing for Scoliosis Therapy
February 16-23 2018
May 20-28 2018
June 29 -July 6 2018
August 19-26 2018
September 15-22 2018
October 12-19 2018
November 16-23 2019
December 14-21 2019
January 11-18 2019
February 22-29 2019
March 22-29 2019
April 19-26 2019
May 3-10 2019
June 14-21 2019
August 16-23 2019
September 13-20 2019
December 8-15 2019
50 CE hours (Continuing education NCBTMB hours)
Hawaiian Massage School of Kauai
State Licensure Program
This is a Hawaiian based massage program with Traditional Hawaiian Lomi Lomi at the heart of the the program.Instead of deep tissue we focus on scar tissue removal and Body balancing to release the nervous system from impingement due to improper postural alignment. Contact the school at 808 651-5481 for course catalog and information on specifics. 550 hour program Tuition $5700
The next pictures are taken from classes over the years. Some large and some private one on one trainings. Depicted here is different aspects of a training from Hawaiian Salt Scrubs in the stream to communication skills training and lots of massage first demonstrated,and then practiced by the students.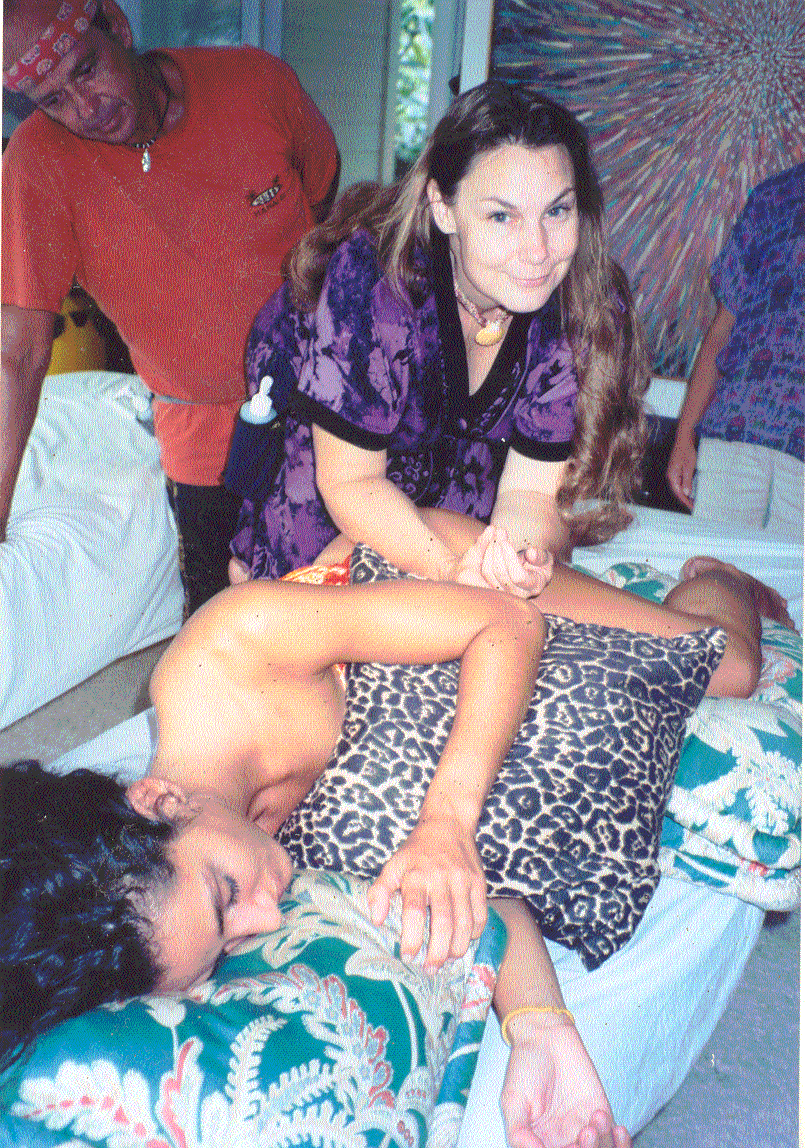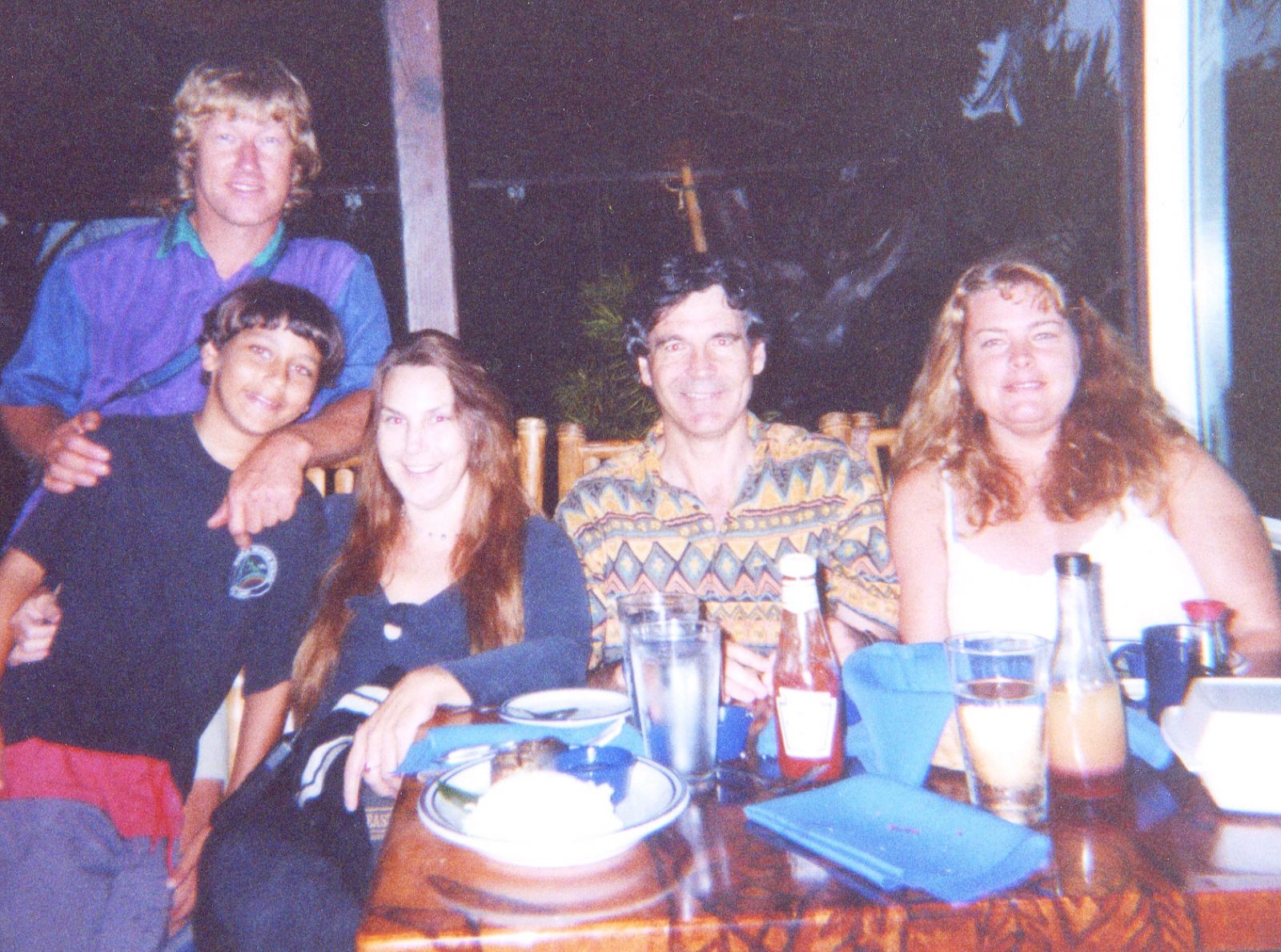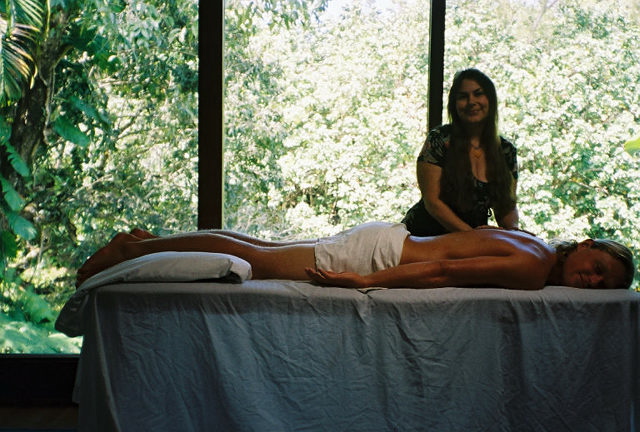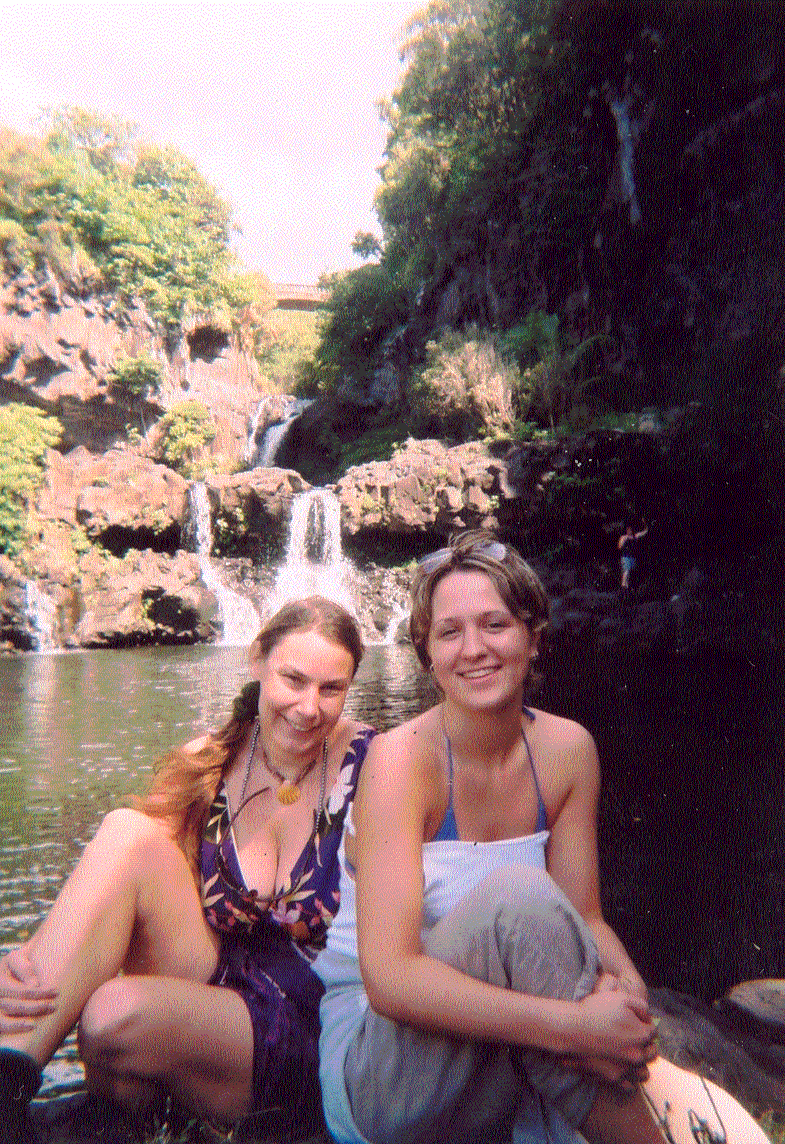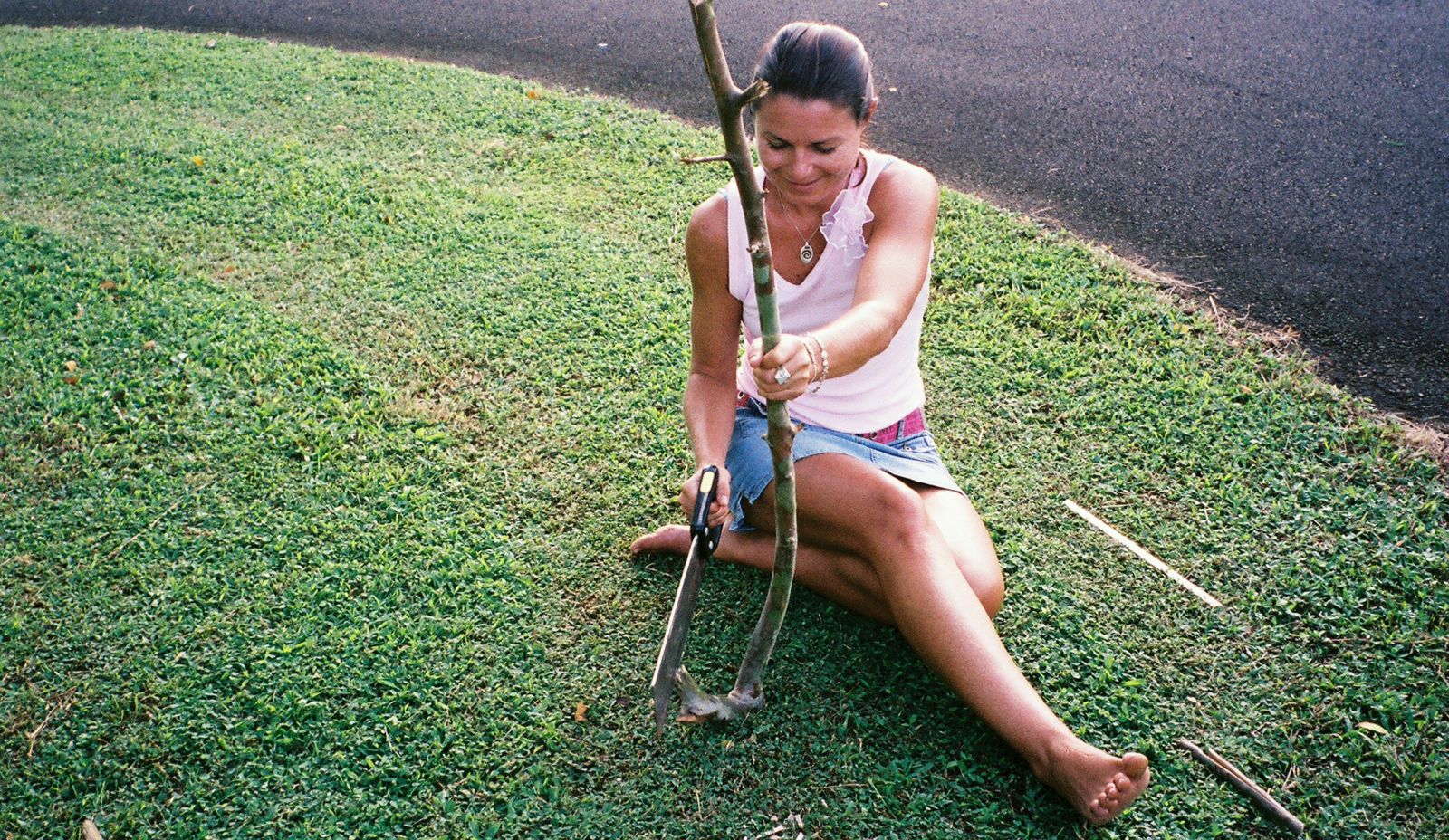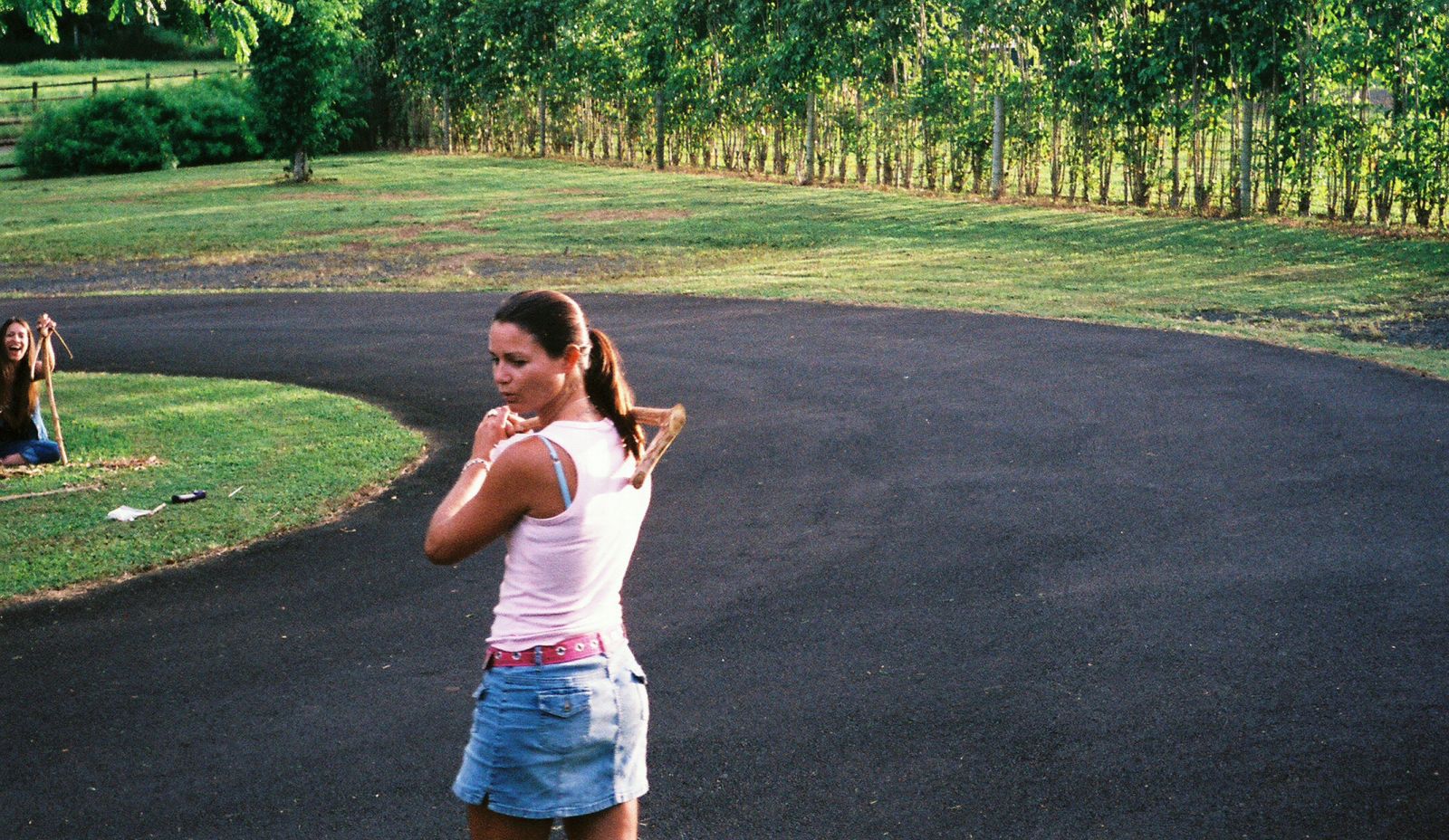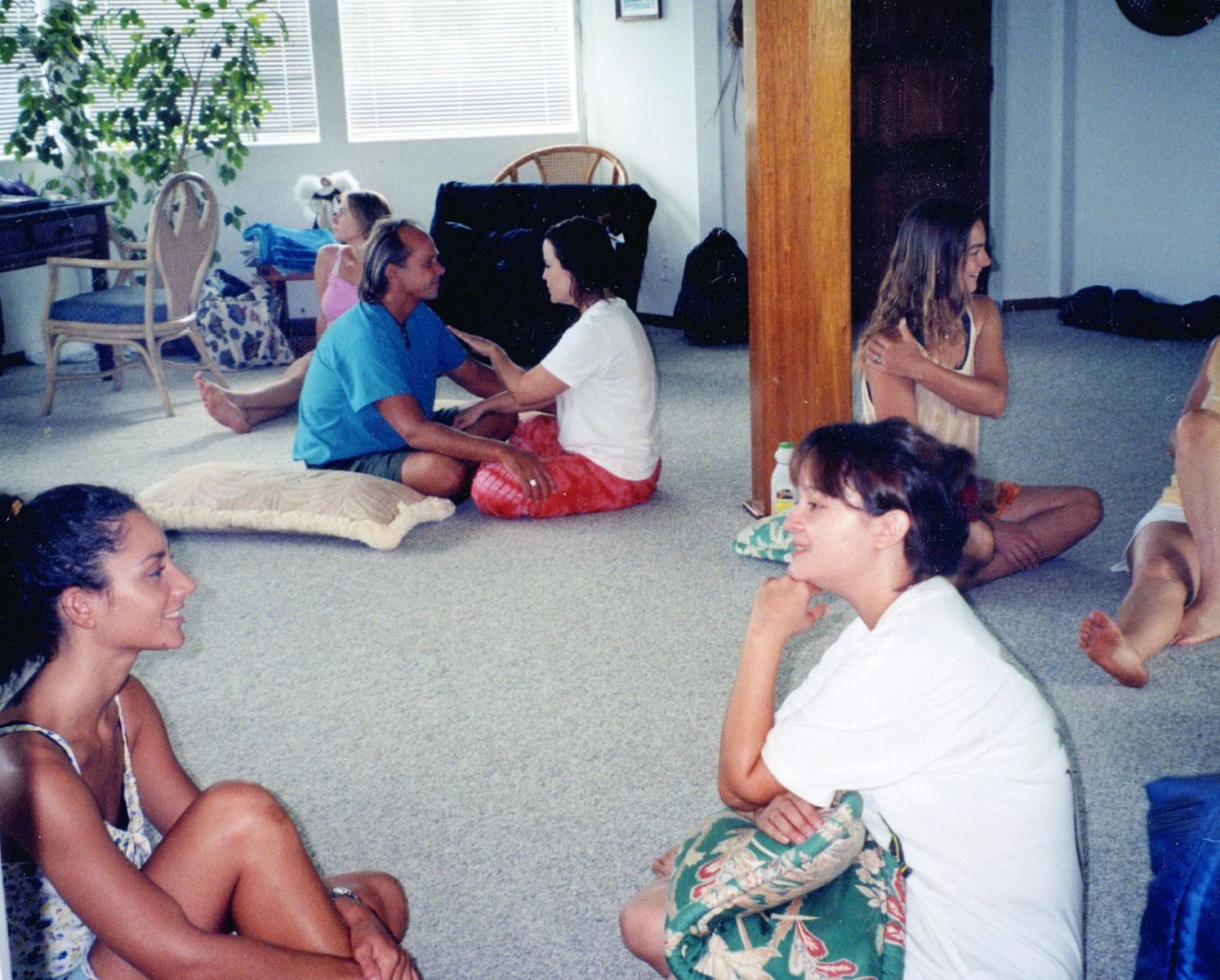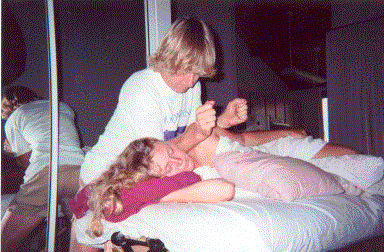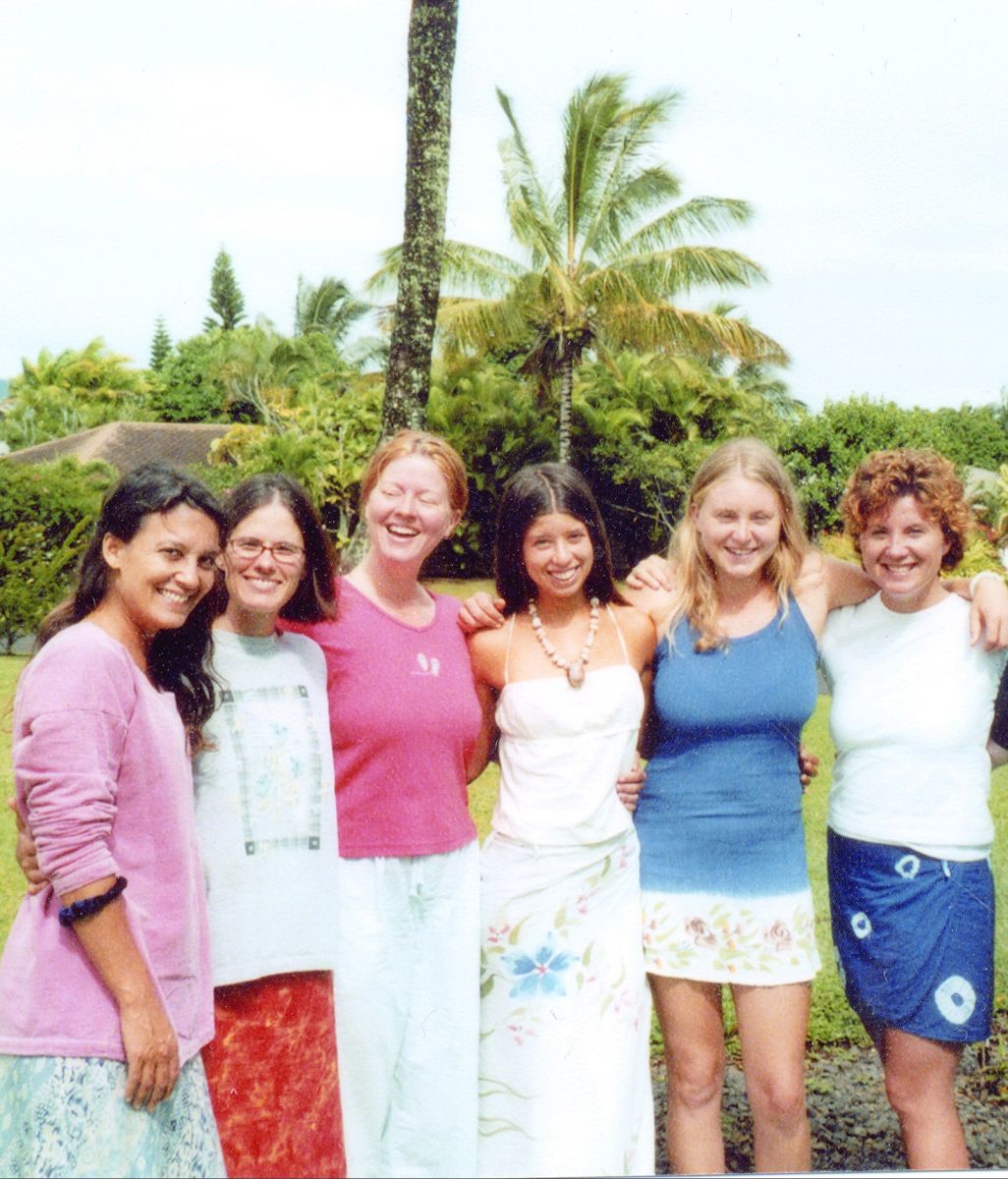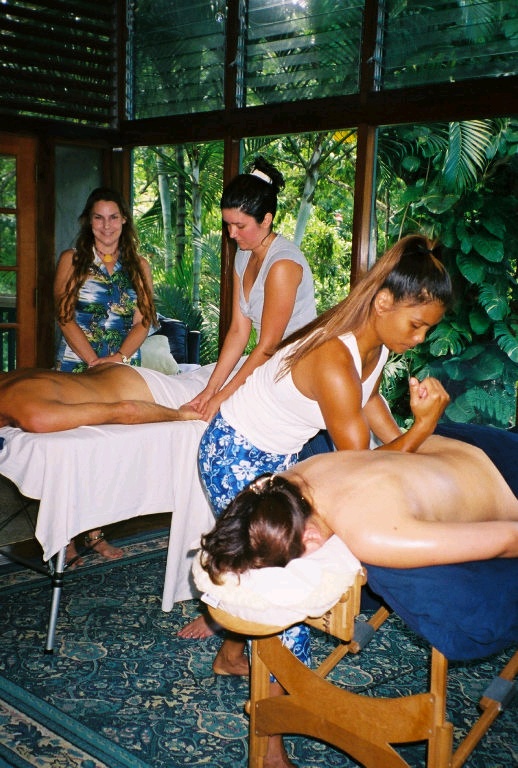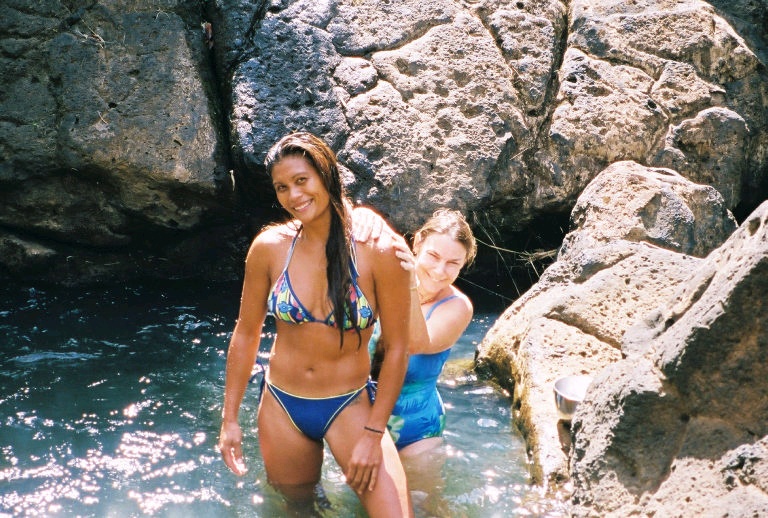 Quotes from past students
" Your courses truly changed my life. I practice what you taught me every day" Jordan
" Thank you for teaching me the Lomi Lomi and I have a slogan for you that is sooo true : Heaven is a place where Lomi happens" David
" I ran a spa doing only what you taught me and it was the talk of the town and written up in articles in the area and it was all what you taught me. In addition to this I have seen my own client with MS recover to the point of being able to get out of his weal chair. " Lizzie
" To this day Lomi is all I do I have dropped all other past forms of massage I practiced in the past, Lomi is the best by far." Alex
" There is not a day that goes by practically that you are not in my thoughts. Thanks for your influence in all ways in my life" Vicky
"When I am practicing my massage I can see you showing me what to do in my mind and hear your directions clearly as if they echoed from the past some how alive in me in the moment with what to do next to help the person on the table."
I received this card but can not make out the signature anymore.
"Dear Marguerite,
This was more than a training for me it was an overall experience for body and soul.
Thanks a lot for granting me the opportunity to learn from you."
Sarah Marguerite Pennington
PO Box 1065
Hanalei, Hawaii 96714 Kauai
Phone: 808 651-5481

Email: GodHealsbysarah@gmail.com
Website: www.LomiLomiMassageTraining.com
Hawaiian Massage School of Kauai
Spahanalei.com
NEWS LETTER AND SCHEDULE OF COURSES OFFERED
Aloha to all those interested in Massage and bodywork training. My name is Sarah, formally known as Marguerite Pennington. Lately, my focus has been writing and publishing books, so I have not had time to update my website in quite a while. Now, all of that is shifting. I have changed my site. For information on massage training, see the page on Hawaiian Massage School of Kauai.
For information on massage training in advanced therapeutic bodywork and Hawaiian Lomi Lomi, the site is now and has always been lomilomimassagetraining.com.
Also offered on the site is spa counseling services for resorts and direct spa services available on Kauai. Either come to us, or we come to you.
You can also view links to all of my books on my site. My book on Candida was updated as well as more testimonies entered and published on Amazon.com. I have also just published another book called Portals also available at amazon as a Kendel book. eBook format. The name of the Candida book is "The Simple and Natural Candida Cleanse Program", By Sarah Starlight (my pen name).
Also available is my book; Portals Photos of Angels Orbs, and Portals. This is a collection of several hundred unusual photographs I have taken over the years that show a glimpse into other realms. I have been working on this for the last 3 years. It is available as an eBook at amazon.com. Links to the books are on the home page of my site. This is the list of dates for the courses I offer coming up in the future. The classes will be held on the north shore of Kauai. Each class is 8 days long. 50 CE Hours credit towards NCBTMB or state / association credit needs. Classes are $1290 each, and a deposit is required at time of registration of $500 to save your space. Classes are limited in number so early registration is recommended. The registration form is at the end of this document.
Dates for courses;
Level One
Traditional Hawaiian Lomi Lomi Massage
This massage is the world famous Hawaiian massage, introduced to the world by Auntie Margret Machado. I was a student of hers beginning when I was 21, and have practiced it since. I have been training nationally certified classes in it since 1998.
June 21-28 2018
July 21-28 2018
August 11-18 2018
September 7-14 2018
October 5-12 2018
November 9-16 2018
December 7-14 2018
Jan 4-11 2018
February 15-22 2018
March 15-22 2018
April 12-19 2018
June 7-14 2018
August 9-16 2018
September 6-13 2018
November 15-22 2018
December 1-8 2018
Level Two
Pohaku Hot Sand and Stone Therapy
This class incorporates Hot Sand and basalt lava rocks in a soothing, detoxifying spa treatment.
May 10-17 2018
Level Three
Advanced Hooponopono, Structural Shoulder Neck and Arm Bodywork
with Hawaiian Implements
This class features a process that the Hawaiian culture uses to get right into ones heart, relationships. To clear the soul of encumbrances that may hinder the clear flow of energy through ones being for the client. The massage portion of the training focuses on deep bodywork for the shoulder arm and neck region of the client. This is Ida Rolph PHDs Structural Integration Therapy. Also explored in this course is Hawaiian implements used in massage.
July 27- Aug 3 2018
September 21-28 2018
Level Four
Body Balancing for Scoliosis Therapy
If you want to learn how to realign the posture and go to the roots of pain issues this class is a must for you. This is the most cutting edge bodywork dealing with scoliosis and other misaligned body parts. It deals with C and S curves, and all kinds of human pain problems, plus depression. This advanced Medical Massage is important for making a profound difference for your clients.
June 28- July 5 2018
August 19-26 2018
September 14-21 2018
October 12-19 2018
November 16-23 2018
December 14-21 2018
January 11-18 2018
February 22-29 2018
March 22-29 2018
April 19-26 2018
May 3-11 2019
June 14-21 2019
August 16-23 2019
September 13-20 2019
December 8-15 2019
If you do not see dates that work for you, do not hesitate to ask. I can sometimes accommodate people on scheduling and do offer private and couples trainings as well.
$1290 per level or an 8 day course.
Costs do not apply to travel lodging or food, only tuition for classes. Help in these areas are available upon request.
I am on facebook as well, under Sarah Pennington, so you may send me a friend request if you like. Have a wonderful day. I hope to see you soon.
Much Aloha to you and yours,
Sarah Marguerite Pennington
Training Retreat Registration
Name_________________________________________________
Address __________________________________________________________________________________________________________________ _____________________________________________________________ Email__________________________________________________
Phone ___________________________________
Cell _____________________________________________________Occupation_____________________________________________
Today's date_____
Contact person who stays at same address in case you move in the future. Name_________________________________________________
Phone _____________________________________________________
Address________________________________________________
Email__________________________________________________

I want NBCTMB CE hours credit for a massage license or association membership requirement.
Course Levels________________________________________________Dates of Retreat you will attend and location _________________________
Contact Info:
Sarah Marguerite Pennington
PO Box 1065
Hanalei, Hawaii 96714 Kauai
Phone: 808 651-5481

Email: GodHealsbysarah@gmail.com
Website: www.KauaiLomiLomiMassageTraining.com
Cost and Deposits
The cost of all Levels is $1290 each.
A $500 deposit is required to confirm your registration for this retreat.
The State of Hawaii charges 4% excise tax on all transactions in the state.
The Deposits are not refundable, and confirms you will be attending the retreat. The Deposit is due at the time of application. You may pay by postal money order. I do not accept personal checks. They should be made out to Marguerite Pennington
Please sign indicating you have read the material and agree to the terms and conditions of the training.
Signature _______________________________
Amount __________________
Consent Agreement Please sign below if you give your consent to have a photo or video from the class you attend with you in it on my web site or any other publication or marketing I may do. This is optional.
Signature______________________________
Disclaimer:
There are several styles of Lomi and different spiritual beliefs behind them. I am a Christian and my teacher Auntie Margaret is a Christian. The emphasis in my retreats is hands on massage, not Hawaiiana, legends, or esoteric practices. Some discussion of these may occur, but practical massage is the heart of the retreat. I encourage prayer for your clients, but each individual decides how they will pray. It is not up to me or anyone to tell you what to believe or how to pray. I respect all people's beliefs, but hold to my own strongly. As long as it is clear to all that the massage is the center of the learning experience, all will be well.
I look forward to working with you and ask that you contact me with any questions and let's talk about it. I want you to have a wonderful learning experience, so let me know any way I can accommodate you. Please sign below, confirming that you have read the information contained in this newsletter and are willing to attend the retreat under these conditions. Your signature here indicates you understand that the deposit is non-refundable. If for some emergency you are unable to attend the scheduled retreat date an alternate retreat date can be chosen in the future, no longer than 9 months after the scheduled retreat date you signed up to attend. There are no refunds available for private training period. If you book Auntie Marguerite's time, she is committed to you and expects you to be committed to her. Certification is based not only on attending the class, but being fully paid up in all debts to Marguerite Pennington, and passing the course to her satisfaction by passing all exams, and exhibiting proper attendance of class time.
Print Name_____________________________________________
Signature_______________________________________________
Date__________________________________________________